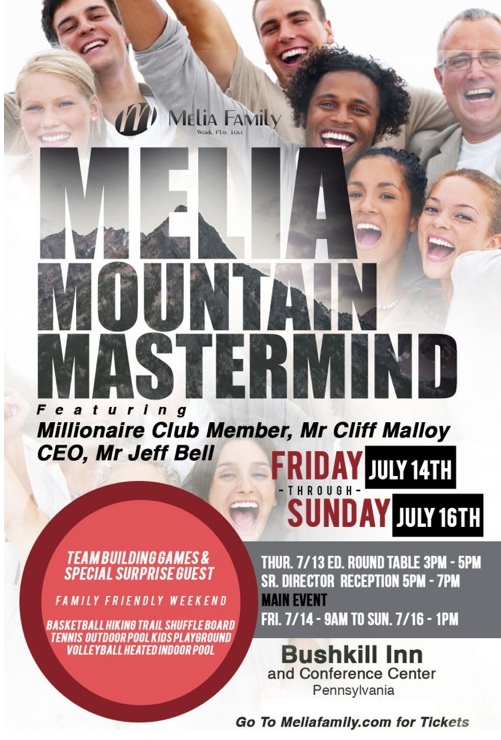 Melia Mountain Mastermind Weekend
We're so excited to see you in PA for the 2017
July 13 – July 16, 2017
This is our time to get together as a Family for an
AMAZING Event – Melia Family Style!!
Special Guest Speakers:
Millionaire Club Member, Mr Cliff Malloy
LegalShield CEO, Mr Jeff Bell 
Spend quality time meeting Melia Family EDs, Ring Earners and Millionaire Club Members.
Special Team Dinner, Team Fun Games, Special Entertainment & more Special Guests
We are super exited to bring back by popular demand some FUNNY entertainment this summer.
A HYPNOTIST…Yes we will have a night of laughs and giggles with a Fabulous Hypnotist, Tim Miller
www.StageHypnosisLive.com.
We have many more surprises in store for you for this event. 
Remember we have our very own CEO Jeff Bell attending this event and Millionaire Club member Cliff Malloy from NYC.
July 14, 2017
In It To Win It Charity Event
Team Bonding FUN!
Raise Money for Work, Play, Love with this FUNdraiser & Team Bonding event.
This special event on Friday morning will include 4 special Activities: 
Time : Pre-Registration 8:30am
Start: 9:00am till 11:30 am
Cost : $ 15:00 Per Person
$30.00 per partnership
If you do not have a partner you will be assigned one at the event.
Prizes
TEAM GOAL IS TO RAISE $1500.00 FOR WORK PLAY LOVE
1st Prize: Pies in the Eyes
The winning team from each activity will get the privilege of putting whipped cream pies in the face of a selected Ring Earner.
Who selects them? The Family does!
Each of the Ring Earners that chooses to participate will have their name on a container to put funds into. At a designated time, we will count the funds and the three top earners will get "pies in the Eyes".
2nd & 3rd Place Teams will get recognition Prizes
The Grand Prize
Bragging rights back home that you are a part of a group of business folks that are reaching beyond themselves to help fund an orphanage.
Hotel Info:
We have sold out of the host hotel however there is room at Fernwood Resort, The Villas at Tree Tops and Fairway;
Falls at Saw Creek;
Value Inn;
Budget Inn;
Econo Lodge
Since several of these are Time Shares, a few can only be booked though travel sites such as Booking.com, Expedia.com, Travelocity.com and many more.
There are many AIRBNB and VRBO rentals in the area. 
Karen our team assistant is here to help in any way possible if you need assistance. Please email her at ksaint9999@cox.net
** If you booked extra rooms in the Poconos and haven't spoken to Karen please email her to let her know your rooming situation.
Airpot Info
There are many airports to fly into to get to the Poconos (we realize many are driving in) however please make sure you are looking at whats best for you and the team and if any rental cars are needed to get to the event. Here is a list of the closest airports: 
Lehigh Valley International Airport, Allentown, PA
Newark Liberty International Airport, Newark, NJ
JFK International Airport, Queens, NY
LaGuardia Airport, Queens, NY
Please make sure you are registered for the event today!
See You in the Poconos, July 14-16.
Tickets:
Today – June 14, 2017 = $89.00
June 15, 2017 = $99.00