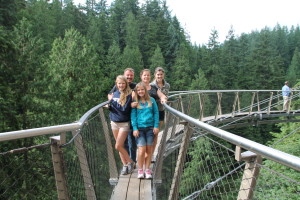 When LegalShield was first shown to me, I was skeptical; I asked a lot of questions and joined as a member only.  I was commuting daily to a full time job as a TV producer, and running two franchise businesses with twenty-five employees to earn extra income.  When my ex-wife filed divorce papers, I turned to Mills and Mills, our Ontario provider law firm.  Thanks to their advice through a difficult and lengthy three year divorce, my two daughters live with me today.  Thank you to Mr. & Mrs. Stonecipher and to the couple who sold us our membership – it has changed my life – and theirs!  I also used the membership extensively in my business and I'll never be without it!  Perhaps that's the best testimony: I was a very satisfied customer, and because I knew the services worked, I wanted to share them with others.  
When we looked at the business opportunity, I was single dad still commuting and running my franchises.  My fiancé Moira was a single mom, with a background in corporate banking, who ran her own home daycare over twelve hours a day.  Neither of us had any time for anything more.  We wanted a way out.  So, we signed up as Associates in 2005 and followed the system.  We went Director in 60 days!  Then we couldn't get anything to work for the next seven months – even though we never missed the weekly briefing.
There are so many people to thank for helping us achieve what we have so far, knowing that we are still learning: the late Mr. Jim Rohn; my parents who said "just keep going" and still to this day babysit for every convention; Mr. Cleve Pickens who taught us 'The Wheel'; The MacKenzie's and Mr. Mike Melia for their friendship and hours of coaching; Kim and Steve Melia and the entire Melia family for the culture of support and friendship; and for every speaker who promoted Performance Club.  We made a decision in Vegas '06 to be in Performance Club no matter what, and as we write this we have completed our 89th consecutive month!!
Sure we've both quit – but not the same day.  Our success comes from consistently recruiting one or two new Associates per month, building strong relationships through our team events, and encouraging others to do the same.  Our huge 'why' is our three girls. 
Today, the daycare and businesses are closed, the commute is gone, we take our kids to school every morning, and work together from home. We have experienced both the incredible monetary benefits of this business and the wonderful friendships that you can't put a value on.  Both have allowed us to enjoy an amazing lifestyle with our family.
We couldn't have done any of this without our incredible TEAM!   Our name and photo appears in this years Profile of Success merely representing what they have collectively achieved. To them we promise that we are not going anywhere, LegalShield is our home, and together we will all achieve our goals in the months and years to come. 
Our personal goal for 2014 is to have some of our team join us in this book next year and by doing so be the first 'LegalShield-Ring-Earner-Team' in Canada!