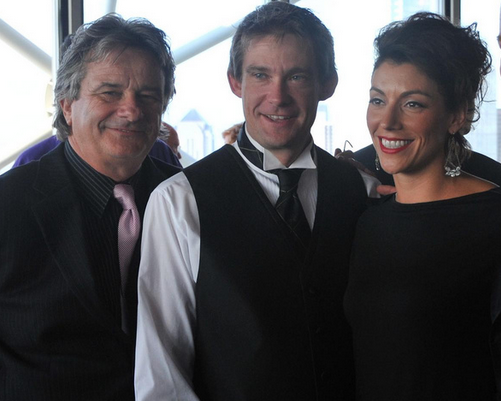 Melia Family Founders
 ~Mike, Steve & Kim Melia~
The Melia Family Story
Take two American brothers, add vision, perseverance and a dynamic young woman from Canada, mix 'em up and what do you get? The Melia Family!
In the mid-nineties Mike and Steve Melia became business partners with the expressed purpose to create wealth. "For the first few years, we ran a non-profit business, only not on purpose," says Steve.
In 1998 this dynamic duo found Pre-Paid Legal Services and younger brother Steve found the woman of his dreams – Kim Lloyd – at their first Pre-Paid Legal event. They forged a partnership and this trio has become a force to be reckoned with in the network-marketing world.
The team went Platinum in May of 1999 and they haven't looked back. In June of that year Kim & Steve opened up the Canadian marketplace along with Rob & Charlene MacKenzie and Darryl Campbell. The Canadian Team has grown continually, and presently is the number one performing team in all of Canada.
The team started out in humble beginnings in an attic bedroom in West Orange, New Jersey. Mike and Steve joined their first network marketing enterprise – a start-up founded by the now-legendary Jeff Olson, the author of The Slight Edge. It was called The Peoples Network aka TPN.
After four years of "failing our way to the top," that company was acquired by Pre-Paid Legal Services from Ada. Oklahoma. Along with their newfound partner Kim Lloyd the Melia Brothers helped the TPN/Pre-Paid Legal "marriage" become a tremendous success.
"We planted seeds all across North America, sending long distance packages far and wide," says Mike. "That activity duplicated throughout our team and now we are doing business in every state in the USA and in all of the Provinces that are open for business." The trio has crisscrossed North America providing leadership and inspiration for all Pre-Paid Legal associates.
"We believe in having an inclusive stance," says Kim. "We believe fundamentally that 'as ye sow, sow shall ye reap.'" That philosophy has brought many happy returns to the Melia Family. After a short 39 months with Pre-Paid Legal, the Melia's were inducted as Charter members to The Millionaire's Club. Over the last several years their fortunes have continued to grow.
"We owe our success to the efforts of the entire team," says Steve. "We know that the key to success in network marketing is to get a lot of people to do a few simple things over and over again. "Philosophically, we are students of Jeff Olson. Jeff taught us the Slight Edge Concept — It's the little things you do over and over again. Each action alone seems to have little or no effect, but the compounded effect over time leads to massive success."
"Massive success is what we had in mind," Kim adds. "We learned from our mentors to 'begin with the end in mind.' As a result we set ambitious goals and embarked upon this great adventure to achieve those results."
The path wasn't always easy or comfortable.
"We knew," Steve says, "that successful people play outside their comfort zone. We were willing to do just that and we were willing to pay whatever price it took to be successful."
The team expanded and took root in many cities across North America. In Atlanta where the Melia's made their home in the early years they were lucky enough ("The harder we worked, the luckier we got.") to find Bob and Vicky Levy who have consistently headed up the area. Down in Texas John Busch showed up and went to work and out in West Texas, Jim Blakemore drew his line in the sand.
Steve and Kim moved to North County San Diego around the time they got married in 2001. Out there they helped Pre-Paid Legal grow substantially and also developed leaders in Kim Maye, Mark and Vene McDonald and Jerry Joyce.
The team expanded through Northern California and up into the Pacific Northwest. "We also have great representation throughout the Southeast and Florida," added Mike.
You can read more about the great leadership the Melia's have attracted and developed over the last decade on this site under Family team.
"We realize this is a People Business and an Events Business," says Mike. "It's all about building for events and providing value for folks once they get there."
"Every summer we have a special team event," says Kim. "It's something we put a lot of work into and it's always a lot of fun." The team also gathers at the two major Pre-Paid Legal Conventions every year – usually held in the spring in Oklahoma and out in Vegas every fall.
"Add to that, we kick off the New Year in Atlanta on Martin Luther King weekend," says Mike. "We believe that Dr. King's vision of justice and equality is being realized right here with Pre-Paid Legal."
"It's hard to fully describe what has happened over the last few years," says Steve. "The Melia Family team has indeed taken on a life of its own. "We always knew that true success had to be 'bigger than us,'" Steve continues. "It had to have a purpose that was bigger than just our success. What I love about this business is that we truly get to help others, not just in their business careers, but also in their day-to-day life. "We have saying in this business – It's not what you get, it's who you become. Then who you become determines what you get."
"We are very grateful," Kim says, "for the opportunity we have with Pre-Paid Legal, but also specifically for the people – for the friendships that we've cultivated. "We're also very grateful for the challenges involved. We know that growth comes as a result of taking a stand for something higher than ourselves. We are on a Mission with Pre-Paid Legal. "We join our founders – Mr. and Mrs. Stonecipher – on the crusade to make Justice for All a reality in our countries and to help create more Millionaires than any other company in the history of the world. "We're always looking for more folks who want to make a positive difference to join the cause."
Today Steve and Kim make their home in Wilmington, NC while Mike lives on the east coast of Florida in the sleepy seaside town of Sebastian. ("It's so I'll be near my Dad," he adds.)
"We believe this," says Steve, "We ain't seen nothing yet with Pre-Paid Legal. This company is doing great work and providing a tremendous opportunity for folks like us –folks who are unwilling to put up with mediocrity and are willing to do whatever it takes to create success in our lives and in the lives that we are honored to be a part of.
"We'll see ya' at the top!!!"